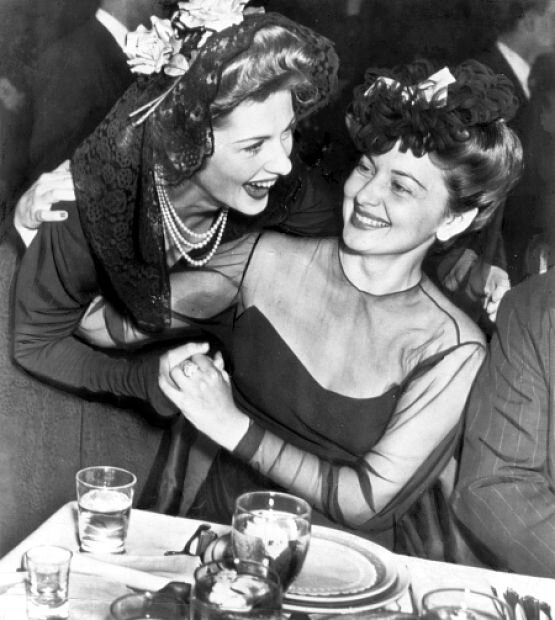 The story behind the picture: Olivia De Havilland (born July 1, 1916) and Joan Fontaine (born October 22, 1917) are sisters. In 1942, they were both nominated for an Oscar in the Best Actress category, Olivia for her role in Hold Back the Dawn and Joan for her role in Hitchcock's Suspicion. Joan won.
"I felt Olivia would spring across the table and grab me by the hair."
Olivia would get her first Oscar in 1946 for To Each His Own but when Joan went to congratulate her Olivia brushed right by her without acknowledgement.
Olivia de Havilland is perhaps best known for her role as Melanie Hamilton Wilkes in Gone With the Wind. Joan had first auditioned for the picture but was turned down. She was told, "Melanie must be a plain Southern girl." Fontaine suggested her sister.
In 1944, the de Havilland law was passed after a long and arduous law suit brought by de Havilland against Warner Brothers because she was sick of being forced to play roles as the demure ingénue or the damsels in distress. One of the most significant and far-reaching legal rulings in Hollywood, it reduced the power of the studios and extended greater creative freedom to the performers.

"Hollywood owes Olivia a great deal," Fontaine commented.
A final rift came in 1975 when their mother, the actress Lillian Fontaine, died. According to Fontaine, de Havilland neglected to invite her to the funeral. According to de Havilland, Fontaine was invited but declined saying she was too busy to attend. More on the subject can be found in de Havilland's memoir Every Frenchman Has One
and Fontaine's No Bed of Roses: An Autobiography

Sadly, the sisters who are now 95 and 96, still don't talk.

"We are not passive people in any way." -Joan Fontaine